STYLPRO Vegan Sponge Sparkle Cleanser - 250ml
Regular price
Sale price
$14.00 USD
Unit price
per
Sale
Sold out
When was the last time you cleaned your makeup sponges?
The STYLPRO Vegan Sponge Sparkle Cleanser was designed to delve into the deepest layers of your sponge, cutting through the oils and powders to restore your sponge to its former self. 
✔️ Registered by the Vegan society
✔️ Oil and fragrance FREE
✔️ Alcohol, Paraben and Sulphate FREE
✔️ Recycled and recyclable bottle and cap
How to use with the STYLPRO Squeeze 
Why you should clean your makeup sponges

Experts recommend that you throw away your sponge every 2-3 months, leading to 300 million sponges ending up in landfills last year. Instead, we recommend using The STYLPRO Vegan Sponge Sparkle, deep cleaning your sponge and using it for longer instead of binning it.

Paired with our STYLPRO Squeeze Makeup Sponge Cleaner, your sponge will be clean and ready to use in 1 minute. Simply soak the sponge in some Sponge Sparkle, and then combine with boiling water before using the Squeeze to spin the sparkle back into your sponge.
Benefits and features

⭐Vegan society certified
⭐Alcohol, Paraben and Sulphate FREE
⭐Prolongs the life of your makeup sponges
⭐Deeply effective cleansing, gentle conditioning
⭐Removes the oiliest of foundation in seconds

Includes

✔️1x 250ml STYLPRO Sponge Sparkle Vegan Makeup Sponge Cleanser
How to use

🖤Add 20ml of STYLPRO Sponge Sparkle Cleanser to the STYLPRO Squeeze Bowl.

🖤Do not mix with other cleansers and always follow the STYLPRO Squeeze Makeup Sponge Cleaner instructions during use.

Please use with caution.
Additional Information

Do not mix with water while using. It is designed to cut through oil-based makeup on it's own for the best results.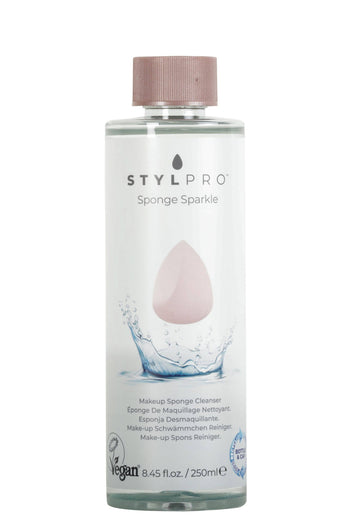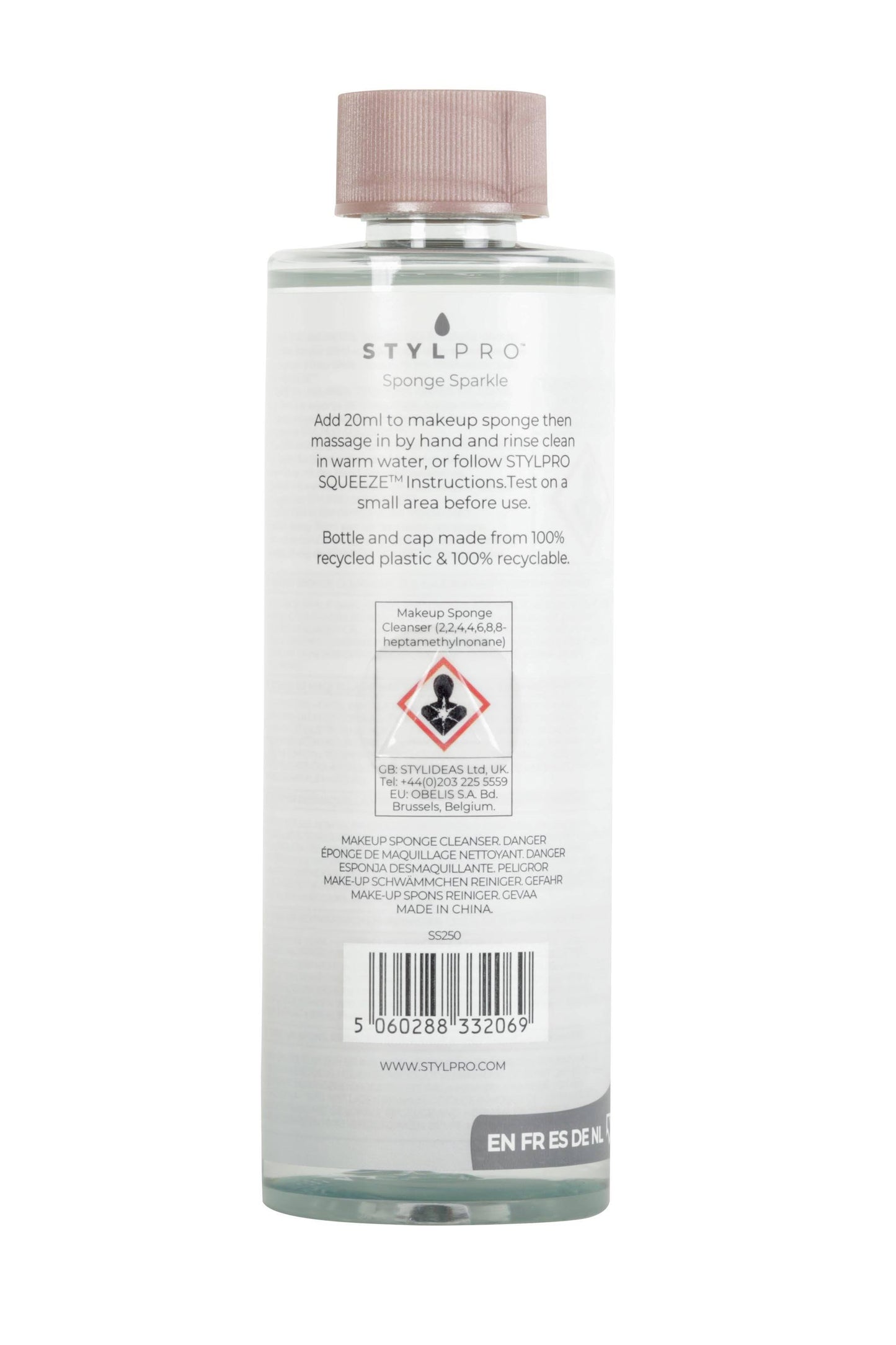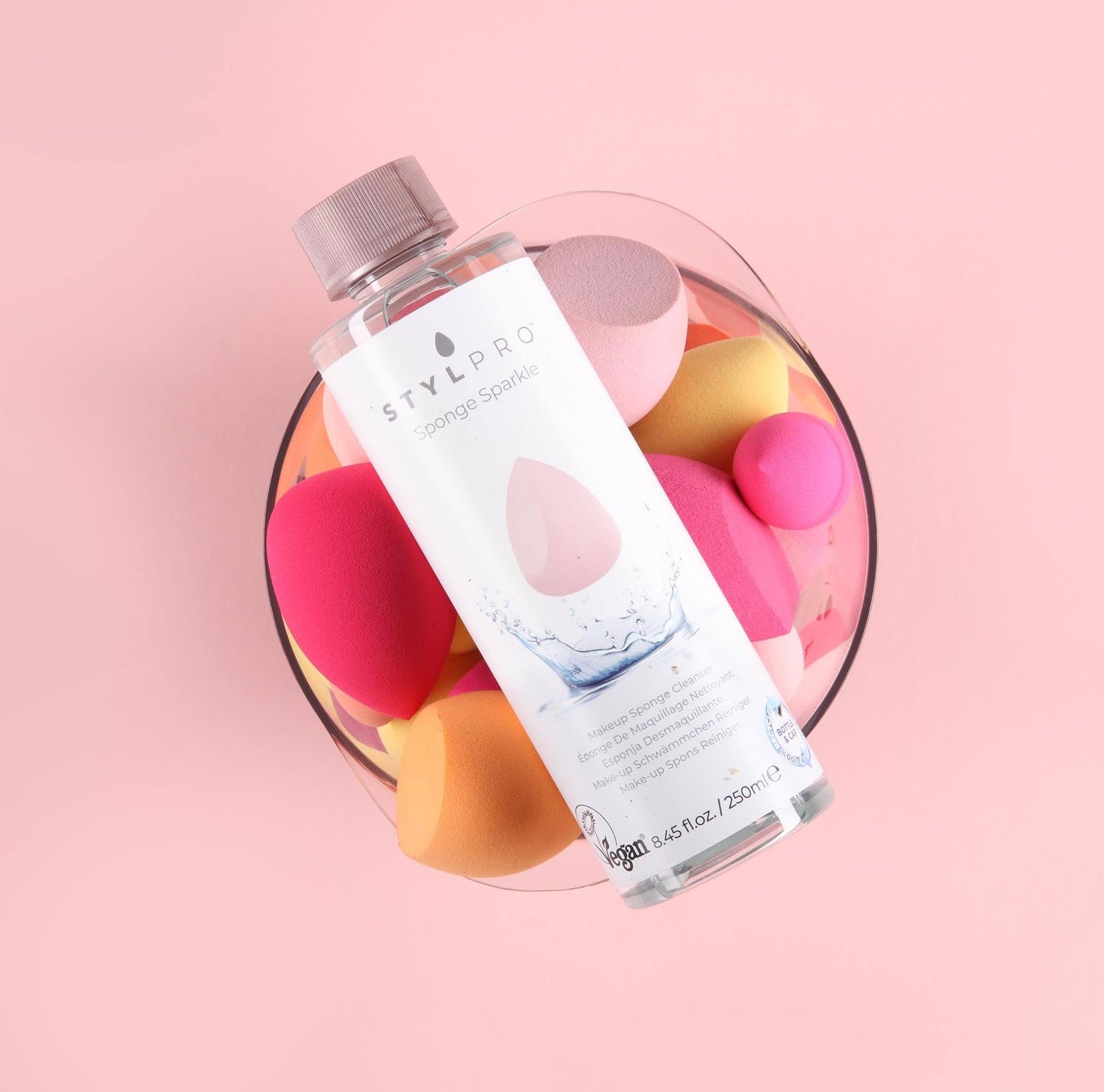 Beauty accessories invented with love
FAQs: STYLPRO Sponge Cleanser
For best results and to cut through stubborn, long stay foundation, we recommend to use the specially formulated STYLPRO Squeeze Sparkle Cleansing solution.
The STYLPRO Sponge Sparkle Cleanser contains 2,2,4,4,6,8,8-heptamethylnonane, a gentle solution common in skincare products. The STYLPRO cleanser is oil and fragrance free, and Registered by the Vegan society.
No. In order to leave brushes both clean and silky soft, our Brush Cleanser includes a blend of conditioning oils such as argon and wheat germ. Sponges however are made from foam, and require a different formulation to leave them clean and soft. Using the STYLPRO Brush Cleanser instead of the especially formulated Sponge Sparkle Cleanser may not only leave your sponge with a slightly oily feel, but will not clean your sponge as effectively.
Once you add the specially formulated Sparkle Cleanser to the bowl and after lightly massaging the sponge, we then recommend you add in recently boiled water, to mix the 2 solutions together, providing best results.
We recommend using 20ml of Sponge Sparkle Cleanser in the STYLPRO Squeeze bowl, as when mixed with recently boiled water, this is enough to clean even the dirtiest of makeup sponges. Please ensure you massage the cleanser into the sponge before pouring the water in.
The Sponge Sparkle Cleanser has been formulated to clean sponges and remove oil from even the most stubborn long-stay foundation. Its gentle but deep cleaning formula delves through the layers of makeup sponges, reducing bacteria and leaving them ready to use instantly. The solution is free from alcohol, parabens and sulphates and is registered by the Vegan Society. When used in conjunction with the STYLPRO Squeeze, it will leave your makeup sponge ready to use again in only 1 minute.
No, it has not been tested on animals. STYLIDEAS do not conduct or condone testing on animals. We are committed to providing high quality, cruelty free products.
Yes, the Sponge Sparkle Cleanser is registered by the Vegan Society as a product suitable for Vegans as it does not involve or contain animal-derived ingredients and has not involved animal testing.
For sponges that are being used on your own face, you may re-use the cleanser and water. For sponges that may be used on others (Makeup Artists) we suggest changing the solution after each wash. However, best results are achieved when you change the cleanser for each sponge, massaging the cleanser into your sponge and using recently boiled water.
No, your sponges will not need rinsing after cleaning. The spinning action of the STYLPRO Squeeze removes the majority of the cleanser and water, leaving the sponge with just enough moisture to begin reapplying foundation without the need to dampen your sponge.
Yes, with 20ml of the Sponge Sparkle Cleanser solution, the STYLPRO Squeeze will leave your sponge sparkling clean. The Sparkle Cleanser was developed especially for this purpose. Estee Lauder Double Wear is one of the most popular foundations and is well known to be difficult to remove. In our testing we used this foundation as our benchmark. Please note, some older sponges may have stains that cannot be removed, however the large majority will be washed away.
Danger: may be fatal if swallowed and enters airways. If medical advice is needed, have product container or label at hand. If swallowed, immediately call a poison centre/doctor. Do not induce vomiting. Dispose of contents/container in accordance with local regulations. Repeated exposure may cause skin dryness or cracking. Contains ≥ aliphatic hydrocarbons. This is not a toy. Keep out of reach of children. Use as directed.
The STYLPRO Squeeze Makeup Sponge Cleaner warranty period applies from the first date of purchase of the product and any claim under this warranty must be made within 12 months. To obtain warranty service, the original proof of purchase will be required. The warranty covers defects in materials and workmanship and excludes where a defect is caused by misuse, poor storage or unauthorised repair of the product. This warranty is provided in addition to other consumer rights and does not replace them. You should always contact your retailer or point of purchase in the first instance. For any warranty claims, please email teamtom@stylideas.com .